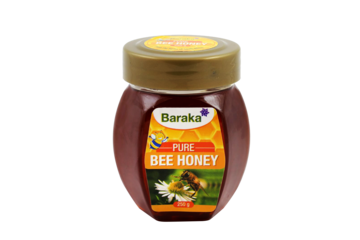 Baraka Farm Bee Honey - 250G
Overview:
Farm bee honey A variety of indigenous and exotic crop plants in South Africa provides vital forage for South Africa honey bees producing raw honey of unrivaled taste and quality. It is rich in nutrients such as vitamins,(vitamin B6, Thiamin, Riboflavin) minerals (Iron, Zinc, Potassium) and amino acids making it a healthy source for day to day life and for many health conditions. Recommended to use as a spread on bread, waffles, pan cakes, crapes and for baking and confectionery.
Ingredients:
Pure bee honey
Recommended for:
Helps to increase athletic performance & reduces cough and asthma.
Shelf life: Two years
Certifications:
GMP, HACCP, ISO 22000,ISO 14001, Halal, Fair choice
---
We Also Recommend